Shalin Deshmukh
Born and raised in Mumbai, she holds a Bachelor of Arts degree in Economics from Ramnarain Ruia Autonomous College – Mumbai University. She was part of college dance and sports groups and won accolades at various inter-college festivals. She has been learning Bharatnatyam for the past 11 years and has performed at various national and international dance festivals. She has also been working with non-profit organizations and has a keen interest in econometrics, marketing, and public policy.
Ashish Hamza
A graduate in BSc. Economics from Symbiosis School of Economics, Pune. His skills lie in the domain of report writing, creative writing, data analysis, interpretation of financial data and solving math problems. He has a keen interest in subjects that deal with graphs, logic, intuition, reasoning, numbers and analytics. Besides academics, he enjoys exercising, staying fit, running and gymnastics. One of his goals is to participate in competitive races. He aspires to pursue a career in the fields of financial and economic analysis.
Nandita Rajhansa
Nandita has completed her Bachelor of Arts in Economics from Fergusson College, Pune. An intuitive problem -solver, she enjoys reading books and articles of multiple genres. She is passionate about finding solutions to real world problems. She takes a keen interest in wide-ranging subjects in social sciences such as politics and psychology, and intends to explore the field of finance in way that incorporates these subjects. She is also a trained Bharatanatyam dancer, an amateur violinist, and a fluent German speaker. Taking up challenging tasks and accomplishing them is her forte.
Manissha Kiran
Manissha has completed a B.A. (hons) degree in Economics with a minor in statistics from University of Delhi. She has an exploratory mindset and a keen interest in the pure science subjects, which she studied at the high school level. A logical thinker, she has won many accolades including gold medals for her performance in NSO and IMO. Once an NCC cadet, Manissha has taken part in multiple sporting events – playing volleyball, basketball, and badminton; and has been a member of a multitude of talent clubs ranging from music and drama, to chess and pottery. She has also attended a public speaking workshop conducted by Sanjay Pinto and is a socially active person. She is culturally sensitive; a skill she acquired from her range of volunteer work for National Association for the Blind, Can Support, National Heart Institute, Baby Steps (A learning center for children with special needs), and The Lakshmi Mittal and Family South Asia Institute, Harvard University. In her free time, Manissha enjoys reading, swimming, and solving puzzles.
Krishna Mohan
Krishna is a graduate in Commerce from Mumbai University, ranking 2nd in Mumbai University in Accounts in the third year. She is also a CA Final candidate of ICAI, Mumbai and has completed 3 years of articleship in the Assurance department of PwC. She aims to develop a deeper understanding of finance and data analytics and pursue a career in these fields. Actively interested in teaching, she has taught underprivileged children Mathematics and English. She is an enthusiastic traveller and is currently training in Carnatic vocals and violin.
Manasvi Iyer
Manasvi is a BSc. Economics and Finance graduate from the University of London. At college she had topped the Strategy course and received an academic achievement award from the University of London for the 2017-18 examination period. She has cleared 2 levels of the CFA examination and will soon appear for the third level. She also holds an ATCL diploma in Communication Skills from Trinity College, London. She interned at the Corporate Economics Cell headed by one of India's leading economists, Dr Ajit Ranade, who works with the Aditya Birla Group. She is also an avid reader, plays squash and paints in her free time. Going ahead, she wants to delve into the realm of Data Analytics and Behavioural Economics and Finance.
Aarushi Lunia
Aarushi graduated with a Bachelor of Arts Degree in Economics from Sophia College for Women (Autonomous), Mumbai University. She has a keen interest in the field of public policy. Having completed an online certificate course in Finance and Stock Markets offered by The Climber in collaboration with IIM Bangalore she has developed an interest in the field of finance as well. She secured first position in the Applied Component (Investment Analysis) category in her second year and is enthusiastic about maths. Being one of the organisers for the Security Team during Kaleidoscope, an annual inter-collegiate fest of Sophia College has helped her become a team player and manage her time well. Apart from academics, she was an active participant of activities conducted by Economics Department of Sophia College which helped her in learning leadership skills and handling people. She has a keen interest in economics because of her deep-seated curiosity to know how economics runs the nation.
Shagun Mandhania
Born and brought up in Mumbai, she has recently completed her graduation in Accounting and Finance from Thakur College of Science and Commerce. She has been a part of her college cultural committee and also organized Summit'19 for BAF Department of her college. She has interned at a CA firm for 4 months. Her curious mind has been intrigued by how the economic system works around us and how finance and economics plays an important role. She wants to pursue a career in finance. She has always been interested in the fashion industry and aspires to have a brand of her own. She loves to drive around and travel solo.
Rucha Bedekar
Rucha is a graduate of Ramnarain Ruia College with a degree in Economics. She has a minor in History and Political Science. She has been a student of French and German for the past 4 years and has recently taken up learning Japanese as well. She was actively involved in the extra-curricular activities of her college as the head of the Public Relations of her college, and the Marketing head of the Economics Department. She has worked as a tour guide in Mumbai for 3 years with Raconteur Tours, which has given her the opportunity to interact and network with people from different walks of life. She has volunteered with Teach for India for 3 months from October 2015 to January 2016 and has worked closely with underprivileged children and students with learning disabilities. She is fond of travel and photography. Economics and the intersectionality of the subject excites her and she would like to pursue a career in the field of International Political Economy.
Arushi Chadha
Having graduated with an Honors in Economics from the hallowed Shri Ram College of Commerce, she wished to take up the course at MDAE to delve further into the subject and do justice to it. She has a knack for numbers and is proficient in several programming languages. She enjoys playing golf and has a penchant for reading, primarily Indian authors. Some of her favourite authors are Anuja Chauhan, Jhumpa Lahiri and Chitra Banerjee.
Ishu Jaswani
Ishu graduated with a Bachelors in Commerce (Accounts and Finance) from H.R College of Commerce and Economics. He has also successfully completed Level 1 of CFA (Chartered Financial Analyst). He takes a keen interest in financial markets, and routinely invests in the stock market. He is a football player and avid runner, having run several 10k marathons. He is fascinated by human behaviour and psychology. Ishu would like to pursue a career in financial markets and data analytics. He aspires to be a venture capitalist in the future.
Ayush Gandhi
Ayush completed his graduate programme in Economics & Finance under the University of London, with academic direction from the London School of Economics (LSE). He believes that financial economics and data analytics are two essential tools to become an accomplished analyst in the new era. His inclination towards financial markets drove him to intern with the CLSA equity research team where he gained valuable insights of the financial services industry. His flair for finance has led him to pursue a financial modelling course and learn R-programming. He is also an enthusiastic writer and runs a personal blog 'ayushgandhiblog.wordpress'. He is passionate towards sports and has participated in State & National level Chess competitions.
Bhargav Varma
Bhargav is a graduate of Commerce from SRM University, Chennai. Being an enthusiastic learner has enabled him to develop a strong understanding of various subjects. His undergraduate degree aided him to build a strong and funnel approach to problem solving as well as develop a critical outlook on social and economic issues. Bhargav has presented 3 papers in international conferences on Business, Economics and Knowledge Management. He is the co- founder of Ottoman's Royally Served, a Turkish restaurant in Chennai. His interests in astronomy, psychology, technology and science has helped him immensely in understanding the future evolution of economics.
Aravind Kshemendranath
Aravind is a Triple Major graduate in Economics, Industrial Relations and Sociology from St. Joseph's College (Autonomous), Bangalore. He has served as the General Secretary and the Vice-President of the Economics Forum of his college, and the College Ambassador (Josephite Ambassador) for 2 consecutive years. He has presented a paper titled "Artificial Intelligence as a Business Disruptor: Opportunities and Challenges for the Indian Economy" at an International Conference in Sunway College, Malaysia. He believes Data Analytics is the future and aspires pursue a career in this field. He loves travelling, hiking, soccer and tennis.
Supriya Maheshwari
Supriya is a graduate in Bachelors of Arts with a specialization in Economics, from SIES College of Arts, Science and Commerce, Mumbai. She holds a certificate of merit from the CBSE board for outstanding performance in History in the 12th board examination. She has successfully completed an online certificate course on Globalisation and Culture from NPTEL.  She has actively volunteered with "Utkarsh", her college's Literary Festival and other events organized by the Economics Department. She is a fluent French speaker and has been teaching French for 3 years. In her free time, she likes sketching, reading fiction, listening to old Hindi songs and travelling to places which have rich historical and cultural relevance. Having a keen interest in finance and economics, she hopes to bridge the gap between the theoretical knowledge and their real-world application with quantitative techniques.
Neha Chavan
Neha has completed her Graduation with a Bachelors in Arts majoring in Economics with econometrics, with a minor in Statistics and Psychology from DG Ruparel College, Mumbai. She has also been vigorously involved with the economics department of her college Economica, organizing the inter collegiate festival Arthotsav where she was the department head of Logostics and head of the events "X marks the spot" and "looking for Pleiades". She has previously interned with a start-up firm, Rob capital.
Ketaki Kulkarni
Fascinated by the applications of economic theories and thoughts to the real-world problems, she aims to learn finance and data analytics through this course and continue her further education in the same direction abroad. Additionally, she likes to pursue courses online. In her school days, she had participated in several languages, drawing, and painting competitions at the state level. Trained in Kathak, she has participated at various cultural events. She is passionate about her culture, and has learnt Sanskrit and Vedic maths. In her free time, she finds solace in playing the harmonium, painting, and cooking a variety of cuisines. She regularly cycles, jogs, and enjoys solving Sudoku puzzles
Priya Murali
Priya, a graduate from Mount Carmel College, Bangalore, has a BSc triple major in Economics, Mathematics and Statistics. She has held many positions of responsibility throughout her time at school and college. She has been an active participant and a core member of the economics association of her college and has helped in conducting various economic discussions, seminars, events, and panel discussions for students. She has completed projects on sensitive topics like menstrual hygiene of women, women in politics, water awareness programs, and the use of MLA LAD funds of different constituencies in Bangalore. While working on different platforms and meeting different people she realized her liking towards the fields of data and analytics and is keen on pursuing it further. She has interned with Bangalore Political Action Committee (BPAC) and Centre for Development of Advanced Computing (CDAC), and has enhanced skills of using basic statistical tools and Microsoft Office. She is also trained in Carnatic vocal music and Bharatanatyam, and enjoys sketching, painting, and engaging in adventure activities.
Shruti Vasudevan
Shruti Vasudevan is a graduate from Ethiraj College for Women, Madras University. She holds a bachelor's degree in Economics. She represented her department as the Association Secretary, which taught her greatly about leadership and organisational skills. She has also interned at STEP, The Hindu. Additionally, she has completed a course on financial markets from Finmark Trainers, and on Digitalisation from Concordia College, New York. Her main goal at MDAE is to develop her skills in economics. She is keen on learning the various aspects of economics which includes studying human behaviour. Apart from academics she is also a trained vocalist and plays multiple instruments. In her free time Shruti enjoys reading books on genealogy, developments in science and western civilization.
Shaily Bhansali
Born and raised in Raipur, she has completed her bachelor's degree in commerce from the Narsee Monjee College of Commerce and Economics (Mumbai University). An integral part of the co-founding team of Insight'17 (a Pan-Asian business, finance and economics meet), she was one of the foremost members who laid the foundation stone of the fest in its inception year. Through her marketing and influencing skills, she brought on board one of the main sponsors of the event. Her experience didn't just focus on the assigned marketing department but ranged from the administrative to the creative team. She further explored her skills by taking the role of Campus Ambassador of Dineout and British Council Study. Shaily's main purpose of joining MDAE was to gain in-depth knowledge in economics and finance. She is also pursuing an online certification in "Foundational Finance for Strategic Decision-Making Specialization" by University of Michigan. She is intrigued by the world of finance and wants to make a place for herself in it. Going forward, she envisions herself making positive contributions in the field of finance.
Nikhilesh Jha
An engineering graduate from Birla Institute of Technology Mesra, he has worked with John Deere for 3 years as Territory Manager in the India Branch Marketing where his portfolio included farm machinery and equipment. His last stint was in a healthcare start-up where he worked closely with the co-founders as a product development consultant. Currently, he is pursuing his post-graduation in economics to supplement his understanding of the subject, develop industry relevant skills and build a career as a professional economist.
Sheel Kanodia
A graduate from St. Xavier's College, Ahmedabad, Sheel majored in economics and holds a minor in statistics. Hard work and dedication add on to her strengths. She secured 1st Rank in the first year of graduation. She has been a part of the core committees of various college fests and in the prefectorial body of the school. She has also worked with various NGO's on projects such as Youth Development and Training, campaigns such as Mere Mat Se Mera Mat and Be a Jagrik. She considers herself to be a good leader, efficient at managing people and co-ordinating teams. Apart from this, she is interested in doing theatre and exploring new places.
Eashaan Nair
Eashaan has completed his Bachelor of Arts in economics and commerce from Ramnarain Ruia College (Mumbai). He was the topper at the Department of Commerce in his final year of Bachelor of Arts. He holds a diploma in counselling from the Institute for Behavioural Management Sciences (Andhra Pradesh).He has participated in various Model United Nations conferences and has also won an award in the annual college festival 'Commercium'. He is a classical Carnatic violinist and is interested in fusion music. He is an ardent sports follower. He enrolled at MDAE mainly for their corporate insights as he believes that the institution prepares an individual for their corporate life ahead. Eashaan comprehends the importance of big data in the field of finance. By studying a combination of Economics, Finance and Data Analytics, he believes that applying analytics in the field of business opens new avenues of insights and understanding in and of business, the market, their performance, their growth, new trends or discern anomalies and a plethora of other such functions. He has interned at Greenpeace where he brought into notice the issues faced by the environment to people at various places in Mumbai, and has contributed towards the society. He also volunteered for a teaching programme with an NGO called CACR where he taught underprivileged children the basics of computers.
Rahul Shekar
Rahul, a graduate of St Joseph's College, Bangalore, holds a Bachelor's Degree in Economics and International Relations. He credits the Michael Lewis movie 'The Big Short' for his love of Economics and is particularly partial to monopolies and their detrimental effects on society. Rahul has his mind set on making a future in International Relations and is also an avid reader of non-fiction, particularly Military History.
Shailesh Kumar
Shailesh holds a Bachelor's degree in Engineering from KIIT University, Bhubaneshwar. Post his under graduation he pursued the role of a Programmer Analyst at Cognizant Technology Solutions. From his graduation days, the curiosity and the desire to understand the world around, led him to immerse himself into the study of Economics, Philosophy, International Politics and Governance. This journey culminated with the realization of his deep-seated desire to make an impact on the world at large, and in 2017 he took the plunge to prepare for the Civil service examination. Now, as he pursues his Post-Graduate Diploma in Economics, he looks to upgrade his Data Analytics skills and be trained to be a real-world Economist who works on economic research related to his areas of interest. He is very keen to pursue a career in the Development sector. During his graduation years, he worked actively with ENACTUS, a student run, global entrepreneurial organization. His association with the organization as a production head and his role in the implementation of the projects at the grass root level significantly honed his organisational and leadership skills. Shailesh runs a personal blog where he critically analyses the current developments in the economy, and also pens down a few poems and short stories. Apart from academics, Shailesh finds his sweet escape in the midst of nature, trekking and cycling in the hills of the Sahyadris and The Himalayas and is also a foodie.
Yash Rathi
A graduate in Economics from Jai Hind College, Yash has developed a keen interest in the intersection of business, agriculture and behavioural science to help solve real world economic problems. His role as managing editor of 'The Contrarian' helped build his skills to manage a large team with individuals performing different roles. In college, he started a company called Farmkonnect with the mission to ensure that farmers are directly connected to end consumers. He interned at a third-party inspection French MNC called Bureau Veritas (BV) and did extensive research on smart cities and opportunities for business expansion for BV in these cities. Further, he has also authored a paper titled 'Parallel Economies beyond Taxes: A study of Institutional Quality, Bureaucracy & Trust' which won the second prize in the Narsee Monjee college's Economic Research Paper Competition. He is also a peripatetic with two intermediate level treks under his belt.
Anukriti Tiwari
Anukriti, a Commerce graduate from Delhi University, completed her graduation in 2017 and then went on to pursue a Master's in the same field. During her under graduation, she was a part of the National Service Scheme and helped the organisation in carrying out a lot of social-service events. She is also an active member of an NGO called the Rotaract club of Delhi. Her main purpose behind joining the Meghnad Desai Academy of Economics has to do with her fascination with the disciplines of Economics and Finance. She expects to gain an in-depth knowledge of the field in order to asses and solve real world problems. Other than academics, she is extremely fond of singing and has received 5 years of formal training in Indian classical music.
Sukant Sindhwani
Sukant has completed his Bachelor's in Commerce from Jai Hind College, Mumbai. He was an active member of the student council of the college and has completed two internships at Coca Cola and AIESEC respectively. He enjoys playing video games, watching movies, looking at art and reading literature. In the near future he sees himself at a place where he is constantly learning, growing and most importantly, happy.
Manasvita Dubey
Manasvita is a keen researcher, an active observer and problem solver. She has completed her graduation in Social Sciences from the Tata Institute of Social Sciences. Being pragmatic and inquisitive has helped her develop a better and more nuanced understanding of the world and its issues. She wants to strike the right balance between academic and empirical knowledge to form institutions and policies that help people shape and enhance their lives every day.
Dhruv Jhunjhunwala
Dhruv completed his under-graduate studies in Economics with a minor in Finance from Pandit Deendayal Petroleum University. He played a crucial role in organizing several college events. He has also interned in Project Finance at Srei Infrastructure Finance Ltd. Upon graduation, he worked as a trainee at VPJ Group (a manufacturing firm). Dhruv spent 8 months at VPJ, where he worked with various departments such as human resources, internal audit, manufacturing and exports. Dhruv has a keen interest in finance and equity markets and follows corporate news very closely. During his time at the academy he wishes to study finance and pursue his career in the same. Dhruv likes running, cooking and solo traveling and in his free time he loves watching interviews of successful entrepreneurs and reading non-fiction.
Aanchal Dusija
Aanchal holds a Bachelor of Science Degree in Applied Statistics & Analytics from NMIMS. She developed a keen interest in economics during her undergraduate study. Her proficiency in several coding languages and statistical software programs enabled her to learn Economics by application and experiment. She is driven to pursue a career in finance & economics and is currently appearing for Level 1 of Chartered Financial Analyst (CFA). She took part in several research projects at the Department of Entrepreneurship while at NMIMS and took on leadership roles in several college organizations. She is also a photography enthusiast and practitioner. Having worked with the Mumbai Art Collective as their Head of Photography she further developed her skill in a professional capacity.
Adit Thakkar
Adit holds a Bachelor's in Commerce from Mithibai College, Mumbai. Adit is keen to learn about and explore the field of finance and economics. He aims at availing the opportunity to learn multidisciplinary skills and work towards a career in finance. He is passionate of football and cricket. He not only follows the major leagues and games but also ensure to participate in the sport himself. He portrays good team building and leadership skills.
Gaspar D'Souza
Graduated from St.Xaviers college in 2017 with a bachelor's degree in economics and statistics. He has worked at Think Analytics as an associate data analyst (2017-2018) working with insurance organizations and pharmaceutical manufacturers through which he has developed a deep understanding of the US healthcare market. Gaspar was also a trainee in the Treasury Economics and Strategy department of Reliance industries (2018-2019), writing thematic reports on a range of topics for the chairman's office.
In his free time he plays the cello and the double bass for the Bombay Chamber Orchestra and is currently a volunteer at welfare for stray dogs (WSD).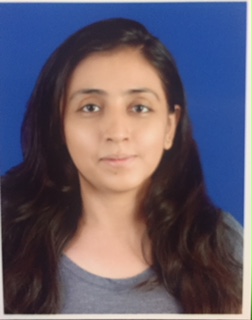 Jinal Bhanushali
An Economics graduate from Symbiosis College of Arts and Commerce. She has done 2 years internship with S.D Mishra & Co., Goa. Where she was heading the GST team and also was a part of Audit and Assurance team of the firm. A nature lover, she likes to trek and run marathons.
Madhura Kaledhonkar
Madhura did her Bachelor's degree in Commerce from Garware College, Pune. She also holds a Diploma in Geo-politics and International Relations. She is working towards getting in depth knowledge in Economics & Politics. Her academic pursuits motivated her to explore career opportunities in the field of Public Policy. She has an artistic flair and likes to create Charcoal Paintings. Her work was exhibited at Balgandharva Natya Mandir, Pune.
Niharika Agrawal
Niharika graduated from NMIMS University with a BBA (bachelor's in business administration) with specialization in finance. She is proficient in French and holds certification for clearing three levels of learning by the premier institute of French learning in India called Alliance Francaise. She actively participated in university competitions and fests. She is a fitness and health enthusiast who religiously follows a fitness regime and motivates her peers to be responsible for their health. Her aim is to apply her moto of hard work and perseverance to academics and explore the field of economic research. Firsthand experiences of research during her undergraduate studies have encouraged her to explore a research-oriented career path with focus on economics and finance.
Swastik Todi
Swastik is a graduate in commerce with specialization in Accounting from Mumbai University. He is also a CA Final Candidate of ICAI. He has completed 3 years of internship with Lodha & Co, Chartered Accountants, Mumbai where he was a part of the Audit Assurance team of the firm. He has attended a Summer School on "Managerial Accounting and Financial Control" at the London School of Economics, London. In addition, he was a part of the Indian Delegation at the Harvard Project for Asian and International Relations held at Hong Kong in August 2017. He has been part of the Finance Department of an auto-ancillary based out of Aurangabad. He is a travel enthusiast who enjoys trekking and exploring new places. He aims to develop an in-depth understanding of Economics and combine it with an existing knowledge base of Applied Finance. He is also exploring options in the emerging area of Business Analytics.
Qasim Mahimwala
Qasim completed his graduation in Business Management and Entrepreneurship as a part of the 2+1 program at ISME, Mumbai and York St John University, UK. He appreciates solving complex problems collaboratively and a passion for learning. Qasim aims to use his knowledge in the fields of management and data analytics to eventually become a strategic consultant. He has developed his leadership and communication skills by being the President of the Student's Council in ISME. Apart from consistently strong academic performances, Qasim is a football enthusiast, a certified advanced scuba diver and a passionate traveller.
Hritika Parekh
Hritika has completed her Bachelors in Arts with a specialisation in Economics from KC College- Mumbai University. When she was first introduced to Economics in school, she found the idea of solving real world problems using theory and logic intellectually stimulating. The bigger picture aspect to the subject allowed her curiosity to grow and played a very crucial role in taking up the subject. She has been a part of the cultural club of her college that has organised a number of events while simultaneously being the head of the Music Dept. She has successfully completed 3 grades of Elocution and Drama from Trinity College of London and has been a part of the organising committee of an independent Tedx event. Being a student consistently striving for growth, she interned at a budding startup taking up the role of Marketing and Business operations which gave her a taste of the corporate culture. Besides her love for economics, she is an avid reader and a travel enthusiast who believes in healthy eating and blogs her food journey on 'CleanEatsIndia'